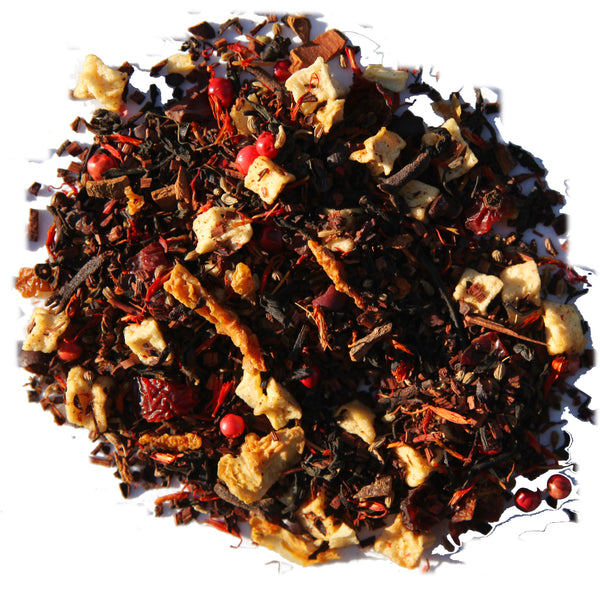 Description
Bonfyre is one of our latest additions and is getting a lot of attention.  Crisp autumn nights call for warmth and comfort and little can better provide them than an autumn bonfire.  To this we have paid tribute.
Behold our bonfyre blend:
Honeybush hazelnut and cocoa nibs relax and ground you, while a spice blend of aniseed, cinnamon, clove and orange peel offer cozy comfort and zest. Apples and rose hips add soft sweetness while lapsang and red peppercorn offer hints of smoke and the flickering spark of heat. 
Oh what a perfect evening cup of tea that helps keep your insides warm with a little heat and a small amount of pepper heat
 100 g [3.6 oz] 
Directions:
1 tsp per cup 
First Steep 3-5 minutes
Second Steep 4-6 minutes
Third steep 6-8 minutes
212° F/100° C
Ingredients: Honeybush Tea, Apple Pieces, Aniseed, Lapsang Souchong Tea, Cocoa Nibs, Rose Hips, Cinnamon Bark, Red Peppercorn, Orange Peels, Cloves, Natural Cinnamon Flavor, Natural Orange Flavor, Safflower And Natural Hazelnut Flavor