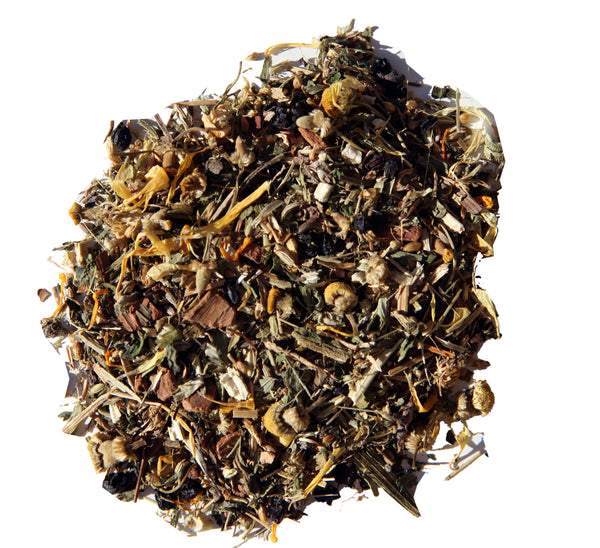 Description
Elderberry Echinacea And Ginger Tea - You know about Elderberries, Echinacea, and Ginger.  But here they are all in just one tea and our timing couldn't be better.  And neither could our proprietary formula with these three PLUS the legendary chamomile making up the top 4 ingredients our list [by weight].  And the list goes on from there with each ingredient being a perfectly complementary addition.
These ingredients are as fresh as we can locate them, brought in from all over the world and tested for their purity and freshness, and then combined in our proprietary and tested formula.  It turns out that it tastes pretty good as well. 
If you haven't discovered the wonders of the elderberries, check it out as it is the legendary wonder-food that people have been using for centuries.
Full disclosure:  We tell you everything we put into this product, with proportionately higher ingredients being listed first.  We want you to be able to know what goes into your body and do your own research on the effectiveness of each ingredient.  If in question, please talk to your doctor to determine if any of these ingredients would conflict with a medication that you are taking.  Unless otherwise listed, all products shown are Organic.
Ingredients:
Elderberries [Wildcrafted Organic]
Echinacea [Echinacea purpurea] 
Chamomile [Organic]
Ginger [Organic]
Chickweed 

[Organic]

African Mango 

[Organic]

Cinnamon 

[Organic]

Mint 

[Organic]

Licorice Root 

[Organic]

Fennel Seed 

[Organic]

Cumin Seed 

[Organic]

Calendula 

[Organic]
Directions:  Use 1 rounded teaspoon to 8 oz, Put in tea-ball or steeper, and steep for 5-7 minutes.  If desired, a second steep may be obtained by letting it steep up to 10 minutes.  Drink as often as desired, but at least 2 times per day.
100g [3.57 oz]