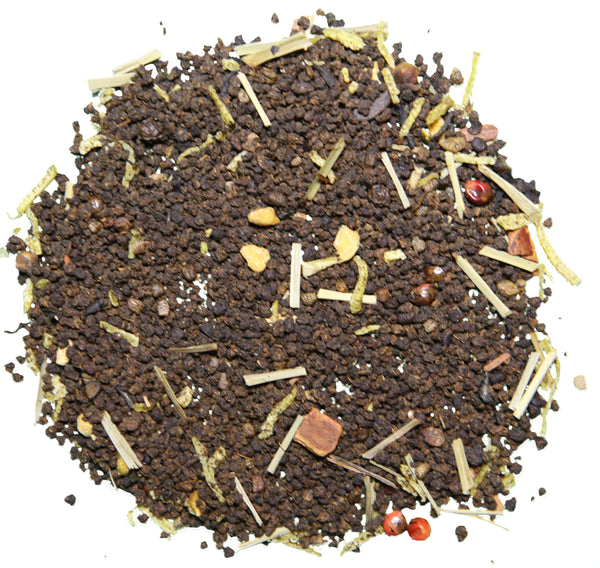 Description
Just In Tai Coconut Chai Black Tea is the classic Assam Black Tea, turned into a luxurious chai with a unique peppery finish and soft mellow coconut overtones.  Even before you steep some up, smell it in the bag and see if it doesn't bring a smile to your face.
It's a fun twist on the classic chai recipe that uses cinnamon chips, ginger root, peppercorns and whole cloves. But it's the totally real coconut flavor that makes this totally stand out.  Rich, creamy, and slightly sweet, this is a classic that is born into a new classic.
If you haven't noticed by now, some of our products carry some unusual names and you may wonder how those names came to be.  And that's part of our story of a family, and where we became "Family Tea".  
That's where Just In Tai Coconut Chai comes in, as it is named after the youngest son in the family, Justin.  Justin is our people-person and we are so proud of him and the way he has jumped into life and his career, showing talents that we never even really knew he had growing up.  So it's a bit fun having named this one named after him, and it has easily become one of the favorite teas in our lineup, bringing a smile to just about everyone.
100 g [3.6 oz] - - 30-50 cups per bag, depending on your desired strength
Directions:
1 tsp per cup 
First Steep 3-5 minutes
Second Steep 4-6 minutes
Third steep 6-8 minutes
212° F/100° C
Ingredients:  assam black tea, cardamom pods, ginger root, cinnamon chips, whole cloves, lemongrass, whole black peppercorns, coconut shreds, natural flavors