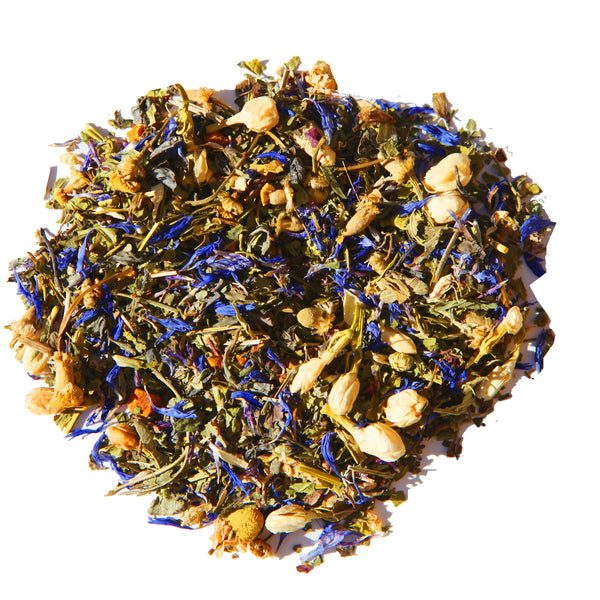 Description
People have been using many of the powerful natural ingredients in Migraine Headache Ease for hundreds of years for the prevention and treatment of migraines and other headaches.  Several of the ingredients are also often recommended by many doctors for patients with migraines.  
These ingredients are as fresh as we can locate them, brought in from all over the world and tested for their effectiveness, and then combined in our proprietary formula for the most effective combination.  It turns out that it tastes pretty good as well.  
To help prevent migraine occurrence, we recommend drinking up to 2-3 cups per day.  Or at the onset of a headache, drink one cup.  Dosage: 1 tsp/8 oz boiling water, steeped 7-10 minutes.
No product solves all migraine issues for all people all the time.  There is no known cure for migraines at this time.  Our goal is to reduce the number and severity of migraines, and many people have reported significant reduction in both.  Please be sure that the ingredients listed are suitable for use and do not conflict with any of your other medicines or conditions.  Please check with your doctor if you are unsure.  
Full disclosure:  We tell you everything we put into this product, with proportionately higher ingredients being listed first.  We want you to be able to know what goes into your body and do your own research on the effectiveness of each ingredient.  If in question, please talk to your doctor to determine if any of these ingredients would conflict with a medication that you are taking.  Unless otherwise listed, all products shown are Organic.
Ingredients:
Feverfew 

[Organic]

Chamomile 

[Organic]

Green Tea 

[Organic]

Skullcap 

[Organic]

Ginger 

[Organic]

Jasmine 

[Organic]

Lemon Balm 

[Organic]

Stevia 

[Organic]

Cornflower Petals 

[Organic]
Statements here are not meant to diagnose or treat patients, and no claim here has been evaluated by the FDA.