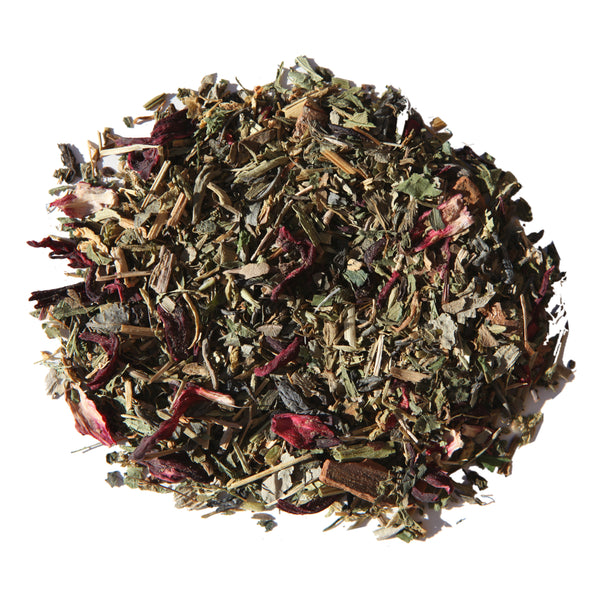 Description
We at Family Tea don't believe in fad diets because they tend to come and go, and often the weight simply returns.  Instead, we wanted to create a delicious tea that supports normal biological functions to help you lose weight naturally and sustainably.  
Family Tea spent a long time researching natural herbs and spices that do four things. 
Help speed up metabolism
Helps provide more energy
Satiety [being satisfied]
Appetite control
PLUS - It's delicious!  
We don't pretend this is a miracle, suggest that the pounds will just melt away, or that you can eat anything you want so long as you drink the tea.  There are no such things as miracle weight loss cures, and much of what is out there has a very disappointing rebound effect.  But it is an assist for those who are serious about losing weight.
This four pronged approach of eating less, being hunger satisfied, giving your more energy, and speeding up how fast your body burns calories is the way that doctors will tell patients to lose weight. The only thing we can't do is help you exercise
And we want you to know exactly what's in it.  Our ingredient list is as follow:
Chickweed 
Cinnamon 
Green Tea  
Guarana 
Hibiscus Flowers 
African Mango (Irvingia gabonensis) Seed Extract 
Nettle 
Peppercorns 
Plantain Leaf 
Stevia Leaf 
Green Tea Extract 

[made from green tea]
Directions on Weight Loss Support steep are as follows:  
1 rounded teaspoon per cup.  Let steep 10 minutes for maximum effect [rewarm before drinking if desired].  Recommended intake is 3-4 cups per day.
Note:  Not to be taken by those who are pregnant or nursing.  This product is untested and no information is available about safety in pregnancy.  Talk to your doctor to determine if any of the ingredients could pose a risk to medications that you are currently taking.
Ingredients in this product do contain caffeine.